Zita: 50 kg weight loss in 14 months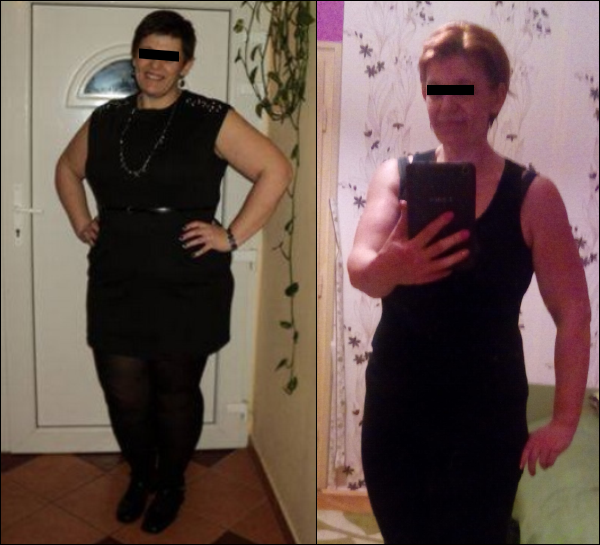 From a obese baby I became a obese teenager and an obese mother. My whole life was about unsuccessful dieting, the psychological misery of fat. I spent the 40 on 21 August 2014. On the 1st of January, I was last tired of New Year's delights, and I calculated that I had 230 days for my 40th birthday. :) I gave myself so much time to learn how to think and take responsibility for my own life in an adult way. I knew CaloriBase from my previous attempts, but it was a great help before, but the persistence was lacking.
On January 2, 2014, at 6 o'clock, the balance was 148.6 kg. Of course, I wanted to drop the 50 pounds in 8 months. I confess I did not succeed. Just 2 pounds a week ... I'm not saying it's an impossible goal, but I wanted to have a lasting result. You know, getting to grown up at the age of 40;)
My daily dose of 1,500 calories and 1.5 hours of sports every day. Or a bicycle or a treadmill. I only let this happen when we started the roof change in summer and I was an auxiliary worker. ;)
My 40th birthday showed me 110 kilos. But I think something crossed my mind because I could not stop thinking about the end of summer.
However, weight loss has almost stopped. It did not go down to 105 kg below Christmas. Here a bit (well, really) I broke. December 24, 2014 and January 2, 2015 I took 10 pounds: O On January 2, I was a woman of 115 pounds. There was another spiritual balance. Really? Am I so weak? All the world's help and support is mine ... My mom is cooking for me ... I just have to defeat my own devil ... and so much? Why him? Seriously? From 148.6 to 115 ... and was this all for nothing?
The heavenly ones helped. :) You've been looking at me for a sport I think I can tell you right now I'm finally getting it out of the pit. It's about kettlebell. I just love to do it. I can not wait for the evening. Every day, 1.5 hours of gymnastics, once a week with a trainer, and still 1500 calories. The pounds jump, and I'm getting stronger, healthier, and I LOVE. I was 98.3 kg this morning. :) For the first time since my teenage years, under 100 pounds. :) I can not walk slowly either! :) I would like to dance all day! :) And I'm very grateful to everyone who helped me. And it's just spring now! Everyone is coming! Get out, move, dance, enjoy life, and do not have to starve ... I never thought I'd say this once, but I'm the evidence myself.
My only advice is if someone wants to get on the road ... do not want it at all costs. Just listen. A tiny little signal ... a click in the brain, a tiny little wave, a breeze that triggers it. And if it comes, go with it NOW! Do not hesitate for a moment, let go of your head, be grateful for every little achievement and keep up with our wave. :) I'm sending one, you can get started! ;)
And one more thing! I guess you do not have to look for a companion of people with similar problems who are just like you wrongfully in the first few days. Search for healthy sportsmen, see, bring, and they will not come in, sorry for each other in a cookie game. ;)