Regina: 41 kg weight loss in 11 months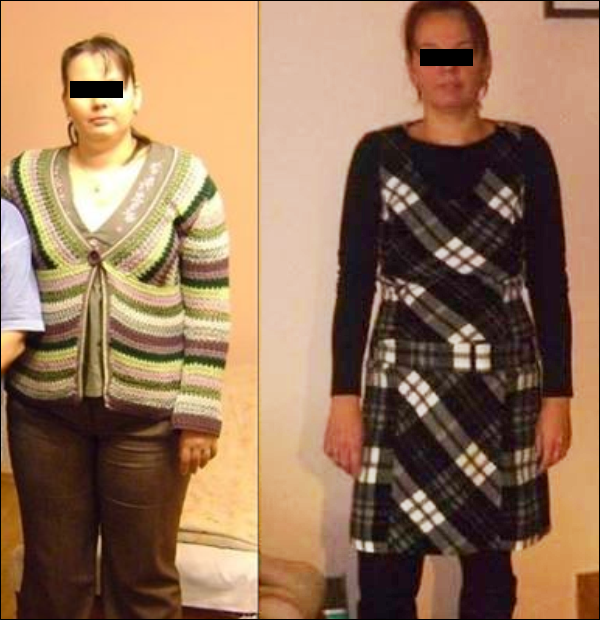 I think I have many components to lose weight, but I try to put it in the box and highlight the most important things!
In December 2012, in a baby club, some of us decided to make new year's life and slimming! I'll tell you honestly then I did not feel strong yet, but I got the momentum of the others.
Then came January 1, and it should have started, but it's about. It did not really go for 2 weeks or just the way it was! My other comrades started dieting a diary, so I thought I would open one of course!
This was the first serious step. To me the words described and the fact that others read the lines have become a huge weight. At this point I wanted to answer first, only to them, and then within a short time for me and January 15 was the day when something came in my mind and I respected what I had invented for myself!
Starting values ​​on January 1st:
Weight: 113 kg
Height: 170 cm
Purpose: 70 kg
Set Date: December 24, 2013
I made the diet so that:
- Morning update bread, cold cuts, lots of vegetables, or update wares
- Ten o'clock: I skipped because we're having lunch early for the kids.
- Lunch: Also update. This is what I ordered or still did. If it was something I did not like, or I was getting tired of the menu for summer, then I did home for example: fried chicken, fish, but update with flour and crumbs. Or if we were with relatives, I did not eat a bowl of meat if it could not be solved (eg egg noodles), then I measured my dose in advance.
- Snack: 2in1 coffee and fruit, stronger sport days U1 pudding
- Dinner: Initially a protein shake, but as I started running there was little and then came in or update with bake cooked or sliced ​​vegetables, or scrambled eggs or turnips of course!
- Drink just plain mineral water
I chose this path because I love sweets and bakeries, I knew they would not go without them. The update has all but low ch values.
I ate these meals for about a day. 1200 - 1500 kcal and 100 ch (carbohydrate). This is a great help for kaloriabazis.hu.
I also tried the cavitation breakdown, I dropped six 6 passes!
The sport was built so that in mid-January I started training at home, every 35 minutes I made Norbi kickbox. Well, the initial 111kg was pretty intense too!
Then, starting mid-February, I started swim weekend, first it was 1 km, then it was 2 km, from June it was a week a week.
I thought I could start running 90 pounds, I'm gonna get it. It was in May. I made this plan through:
http://edzesonline.hu/edzesterv/5/
I enjoyed and loved running! With the start of the run I ran the tournament, there was 2 swimming and 3 runs a week!
When the run-up was over, I ran 3 km a week for 5 km. This is approx. From 1.5 to 2 months, I lifted approx. 700 meters. Now 8 km goes smoothly!
Whatever sport I had, there was a minimum of 5 occasions per week. In winter, this regularity decreased, but I kept 3 occasions a week!
Well, I'm here now! The pounds were very easy, the average of 1 pound per week by mid-October! And it was not hard, it was full of resignations, so I love updatet.
I eat and drink in CalorieBase, calculate everything on the surface, see how much I can eat that day! I also take sport and bring it up. Very good site, great help !!!
At the beginning of a diet or rather a lifestyle change, I made a plan for myself to see what was to be seen on a scale for seven to seven weeks to reach my goal by the end of the year and to have a normal weight loss rate. I am convinced that detailed design and CalorieBase have been my success! In the table I planned how much I wanted to lose over a period, which I set as a Goal in the Base, which calculated everything for me! I kept my daily calories there, letting myself down in the carbohydrate, letting it go so I decided for myself at 100g / day. After each meal I took what I had eaten and I had enough to eat that day! You would not believe the control of the site! It was also a fact that I had seen in the afternoon that I had a bad time with the calories so I put an unplanned sport on that evening. I was in the frame again!
And yes, I am a pretty rational woman! I have checked the thing! I tracked for a week and now I have a chart for how much I was expected lose according to CalorieBase in a week and how much I actually lost! The result is very surprising, since it is the average of 8 months with a difference of 314 kcal per week !!! That's nothing!!! My Level Is A Bake Cake !! And then consider that whenever I bite into the family's delicacies I will not take it to the side or that as a women's body we work differently for seven to seven days! And yet the data are realistic and the plan and fact run in!
I'm currently 71,7 kg, I thank you for 41 kg and you and me! Even 2 kg is the goal, or to start with the balance, but I've already won !! Thank you CalorieBase!!!