Hajni: 35 kg weight loss in 15 months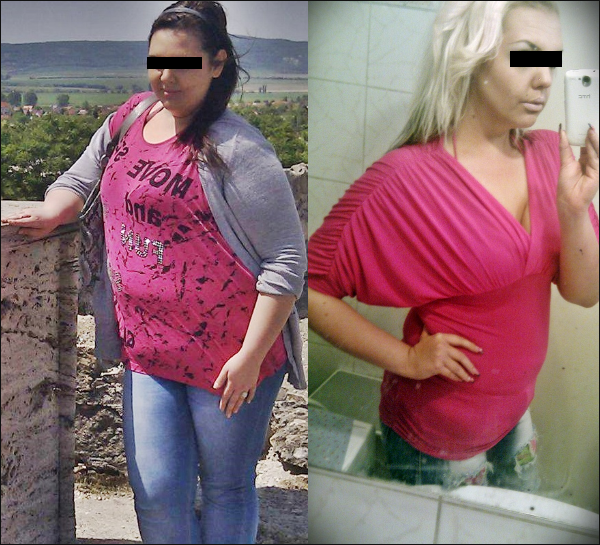 I have never been such a slim girl, I never cared about how well I look good, I grow up, almost never carried more feminine pieces. Why? Because it was not for me because what I liked about it was not mine and because I was twice as big as I did now.
The story started in February last year. At about 20 I put 115 kg. That was my weight at the time and I loved to eat, I loved the sugar loafs. At that time, I was part of my life who I was most responsible for what I am today. He would not have gone without, since I would not have started on this road. Today I can only be grateful to Him. At the beginning of the time, he did not say what I was thinking about, so he would not be sorry. He watched my soul. She listened to me 100%. Then he once broke and told everything. He opened my eyes so that it was not good for poultry. Although for two months only quarrels and insults went on, he kept on with me and did not leave me for a minute, as he already knew what I did not: that it would be for me to go. He recommended CalorieBase, gave advice and I was always there! Then, besides the calorie count, I made myself train. I started training on a daily basis. From April I started taking it seriously, doing everything in full and it was the result. At the beginning, it was extremely difficult to pay attention to what I eat, how I eat, not to drink high sugar beans, and to lend myself to training. I who almost always avoided the thesis classes, I am now boldly declaring that my exercise has become part of my life. If I'm not training, I'm tense, nerve-like and hysterical. :)
I got through a photoshop with pictures and imagination. I imagined I was walking around in silk dresses, my men would turn around and the person who started on the road would be proud of me. AND SUCCESSFUL!
Although I still have a lot to lose, after a year and three months I declare that thanks to you so far I have been released from 35 kg, with 80 kilograms of 115 kg and just for me.